The virtual tour here...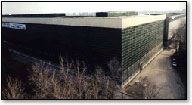 For nearly 40 years, Titan Masini Grele (TMG) has been the technological centerpiece of the well known and respected Romanian machine tool industry. Experts from within the family of companies that make up The Yared Group have dedicated their skills and knowledge to the betterment of TMG. From 1997 to the present, they have integrated six separate Romanian companies into one company that offers true value for the customer. TMG's nearly 600,000 square-foot campus (60,000 square meters) houses manufacturing space for fabrication and heat treatment, machining and assembly, office space for engineering, quality control and administration. It serves as the manufacturing facility for The Yared Group's proprietary machinery products (Titan TMG machine tools and McNeil & NRM tire machinery) and provides valuable contract manufacturing services to customers worldwide.

Fabrication and Heat Treatment:
TMG's sizable welding department can TIG, MIG, stick, submerge arc weld, and silver solder. We have the capabilities to handle weldments up to 20 tons and materials including aluminum, hot and cold finish, stainless, and married materials such as stainless to bronze. Our Lloyd's certified welders utilize modern, brand-name equipment. Auxiliary equipment includes positioners and a CNC Oxy-gas cutting table capable of sheet size to 10' x 26' (3000x8000 mm) and thickness to 19 inches (480 mm). Our heat treatment facility can vacuum heat, flames quench, high frequency currents quench, and provide nitration and cryogenic treatments.

Machining:
TMG currently operates more than 280 machine tools ranging from jig boring mills, MAAG gear grinders, gun drillers, and machining centers; .up to 8" (200 mm) CNC floor-type horizontal boring mills and large portal millers. This diversity gives us the scope and flexibility to keep most of our proprietary needs in-house and also provides excellent control of our customers' contract manufacturing requirements.

Assembly:
TMG continues to add to an impressive background of electrical and mechnical assembly experience. We have manufactured and assembled hundreds of machines for the metal cutting and tire manufacturing industries. Finished machines ship direct from our door to the most prominent tire companies in the world. Our electrical experience includes all phases of cabinet layout, wiring, programming and testing of state-of-the-art CNC and PLC controls by G.E. Fanuc, Siemens, Heidenhain and Allen Bradley. Design and assembly of hydraulic and pneumatic controls incorporate components from Parker, Vickers, Rexroth and other internationally known suppliers. Final assembly is conducted in our 100,000 square-foot (10,000 square meter) assembly bays equipped with five 15 ton and three 50 ton cranes having up to 40 feet (12 meters) under hook.

Quality:
When it comes to contract manufacturing, the customer dictates quality. You issue the drawings and specifications, we manufacture that exact part! Our expertise with demanding parts is a direct result of manufacturing our own OEM products; precision machine tools. We are certified ISO 9001,ISO 18001 and OHSAS operate our own metallurgical lab, utilize computerized scheduling, and have dedicated QC personnel stationed throughout the plant. We manufacture what you want, when you want it!